Artline Big Nib Whiteboard MarkersLarger nib markers that are clearly visible from a distance, optimized for lectures and presentations. Ideal for use on electronic whiteboards. Features a 10mm chisel tip. Available in black. Coming in a...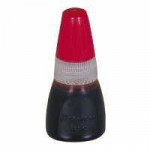 The only ink suitable for re-inking X-Stampers10cc bottlesBlue or Red
The most popular stamp impressions are available off-the-shelf.100,000 print sharp impressions before re-inking is required.Easy touch handle and an impression cover.Lifetime guarantee.