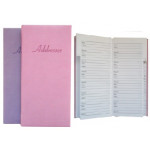 Esposti Pastel Address BooksFeatures a beautiful padded cover and an exquisite silver edge. Contains a variety of sections for Occasions, Popular Numbers, Important Numbers and Personal Information with headings for Names, Phone Numbers ...
Perfect for storing your bus pass, Oyster card, driving licence, credit card or ID cardTwo transparent internal pocketsPVCComes in red, blue, silver, black or pink
A Will Form Pack. Notes on how to complete and example included.These Will Forms are not suitable for use in Scotland. Ideal for use in England, Ireland and Wales, the Esposti Will Form is perfectly suited to its purpose and has been dev...