Perfect for storing your bus pass, Oyster card, driving licence, credit card or ID cardTwo transparent internal pocketsPVCComes in red, blue, silver, black or pink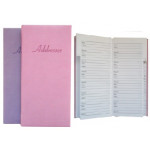 Esposti Pastel Address BooksFeatures a beautiful padded cover and an exquisite silver edge. Contains a variety of sections for Occasions, Popular Numbers, Important Numbers and Personal Information with headings for Names, Phone Numbers ...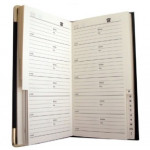 Esposti Address BookFeatures a black padded cover with protective gilt corners and comes with gilt page edges. Contains four pages of 120gsm paper on two sheets per letter. Stores up to six addresses per page. Includes headings for Email...