High tech ergonomic design for ultimate precision. Flexible and water resistant Extra strong gel formula in a superior easy to use dispenserIdeal for use on rubber, china, plastic and card
Innovative easy to use instant adhesive.The brush on applicator allows you to easily control the amount of glue and to spread it perfectly over any size of surface. The bottle insert wipes excess glue from the brush and prevents spillage...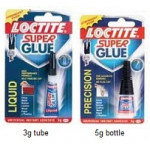 Bonds in seconds with the added advantage of being water and dishwasher resistant.The universal instant glue bonds porcelain, fine china, rubber, leather, paper, card, wood, most plastics and metals.Solvent free.3g tube with anti-clog ca...