Velos Perforex Perforators 2000 Series Elegant aluminium combined with moulded plastic.Includes paper measuring guide for correct alignment. Black. Perforex 2006 6 hole organiser punch for use with Personal size organisers.
Eyeletter 950Parallel action mechanism for punching & eyeletting, ideal for binding documents, presentation folders and D.I.Y. applications. First, punch the hole then place and clinch the eyelet. EyeletsThe eyelets will hold several she...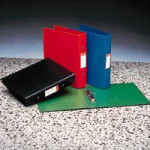 High quality 2 ring binder made from board and coated in plastic.25mm D-ring.